RUBEN Activity Play Table
Ample storage under reversible chalkboard top
This product earns you
000

pts
This product earns you
000

pts
Personalise your RUBEN Activity Play Table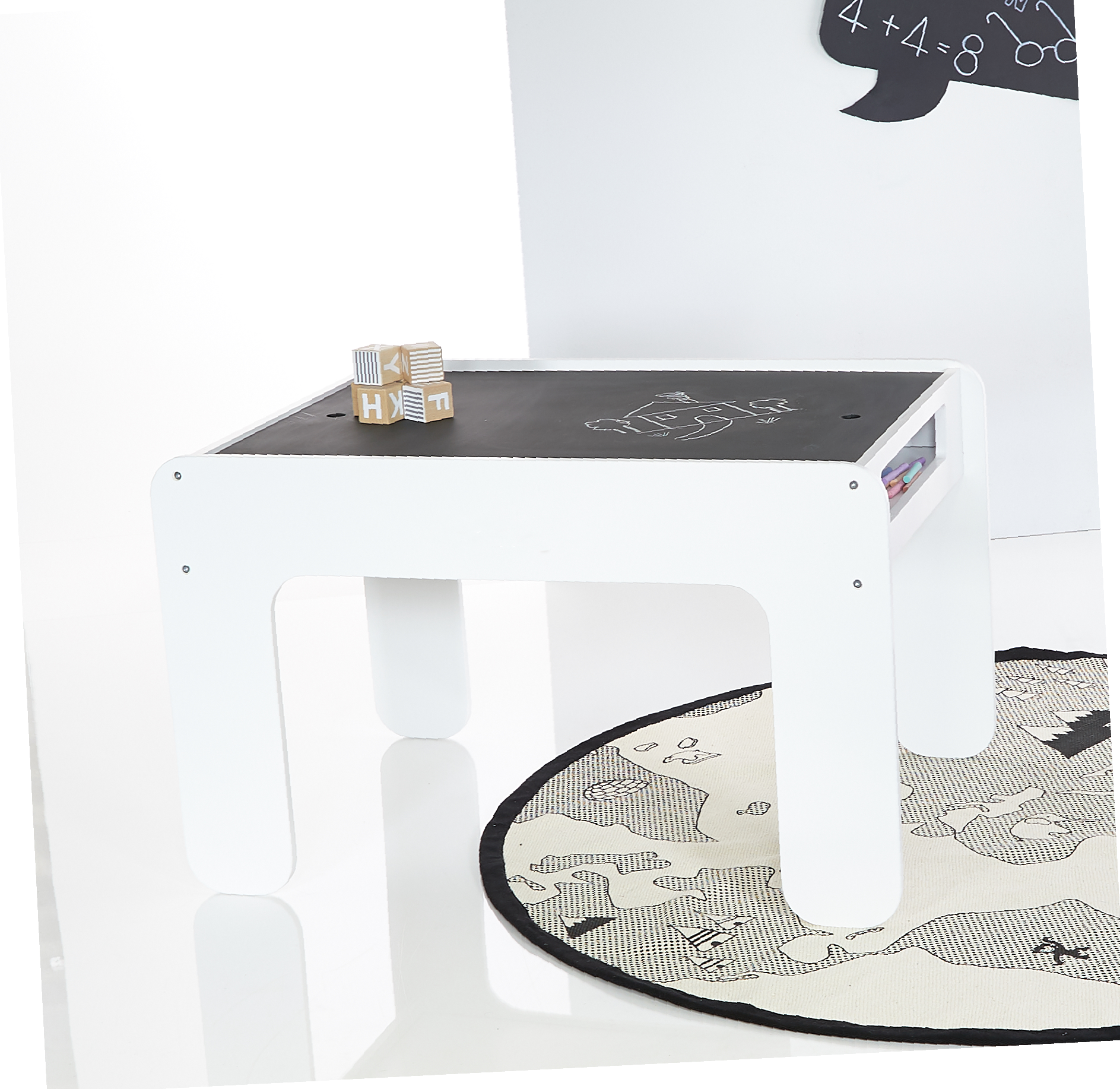 Personalise your RUBEN Activity Play Table
Your text (please enter text)
NB: Your Name Sticker purchase will be delivered separately
If you have chosen to personalise a product with your Child's name and a personalised name sticker is required, you will receive your name sticker within 10 - 14
working days from purchase date in a separate delivery. If embroidery is required you will receive your personalised product within the normal delivery guidelines set out in our Delivery & Shipping Page
Why the delivery price difference?
Our Freight Partners have introduced a reduction in delivery rate for deliveries of large and over-sized items to a business/commercial address. Please select appropriate destination for your delivery at checkout.
Description
This contemporary activity play table is super versatile & compact. Table top is reversible, chalkboard on one side and plain white finish on the other

Ideal to be used as a Lego table, train table, arts & craft table, project table, chalkboard table, extra storage etc
The extra storage compartment under the table top comes in handy for storing such items as paint, toys, books, lego, pencils & paper.
Features
Reversible Chalkboard Table Top. Plain white finish on one side & chalkboard finish on the other
Ample storage under the table top. Handy for storing such items as paint, toys, books, lego, pencils & paper
Solidly constructed from Birch Plywood and MDF and finished in non toxic lead free paint
For an extra small fee can be personalised with your child's name
Age: 3yrs+
Dimensions
Table: 54H x 88W x 60D (cm)
Nb: Arts & Crafts supplies, decor and toys displayed in photos are not included
Please Note: This table excludes chairs, but chairs can be purchased separately here 
Adult assembly required
Please note: If you are purchasing this activity table with Name Sticker, you will receive your name sticker in a separate delivery. You will receive your activity table within 2 - 5 working days from purchase date and name sticker within 10 - 14 working days. Once you receive your name sticker you can then simply attach to Activity Table
Product benefits
Multi Purpose & Versatile
30 Day Money Back Guarantee
1 Year Warranty
Meets Australian Safety Standards
Premium After Sales Support Available
Share the journey
In your homes #hipkids
You've earned a Free Gift! Please Choose
HipKids Wooden Tea Set
Toy Food & Beverage Set
HipKids Toy Cash Register