KASPER 2 in 1 Bookcase / Easel
all in one bookcase & easel
$199.95
$169.95
You save 15% ($30.00)
This product earns you
000

pts
$199.95
$169.95
You save 15% ($30.00)
This product earns you
000

pts
Personalise your KASPER 2 in 1 Bookcase / Easel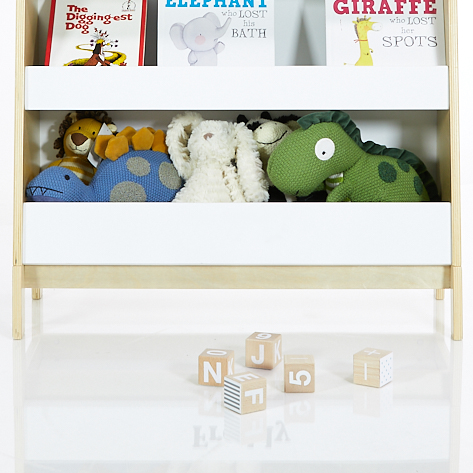 Personalise your KASPER 2 in 1 Bookcase / Easel
Your text (please enter text)
If you have chosen to personalise a product with your Child's name and a personalised name sticker is required, you will receive your name sticker within 10 - 14
working days from purchase date in a separate delivery. If embroidery is required you will receive your personalised product within the normal delivery guidelines set out in our Delivery & Shipping Page
Why the delivery price difference?
Our Freight Partners have introduced a reduction in delivery rate for deliveries of large and over-sized items to a business/commercial address. Please select appropriate destination for your delivery at checkout.
Description
This KASPER Bookcase / Easel will make a great addition to any kids bedroom or playroom.  It's ideal storage for toys, books, games, cds, movies, or other personal items.
This versatile bookcase doubles as a Chalkboard easel. Easel can be easily removed to allow it to be stored away when not in use.
This Bookcase/Easel is well constructed from birch wood ply, pine and MDF and finished in non-toxic lead-free paint.
Overall Dimensions: 72 W x 30 D x 106.5 H (cm)
Meets Australian Toy Safety Standards AS/NZS ISO 8124, suitable for 3 years+
Adult assembly required 
Unit is supplied with safety latch to attach unit securely to wall
Warning - Toppling furniture can cause serious injury.  We strongly recommend that a safety wall anchor is used and installed appropriately with this product, to prevent the item toppling and potentially causing harm.  Heavy items should always be placed on lower shelves only.  Do not let infants or children crawl or climb in or on furniture. Parental supervision is always recommended.
Product benefits
Multi Purpose & Versatile
30 Day Money Back Guarantee
1 Year Warranty
Meets Australian Safety Standards
Premium After Sales Support Available
Share the journey
In your homes #hipkids