Classic Pedal Fire Truck
Incl. wooden ladders & adjustable pedals
This product earns you
000

pts
This product earns you
000

pts
Personalise your Classic Pedal Fire Truck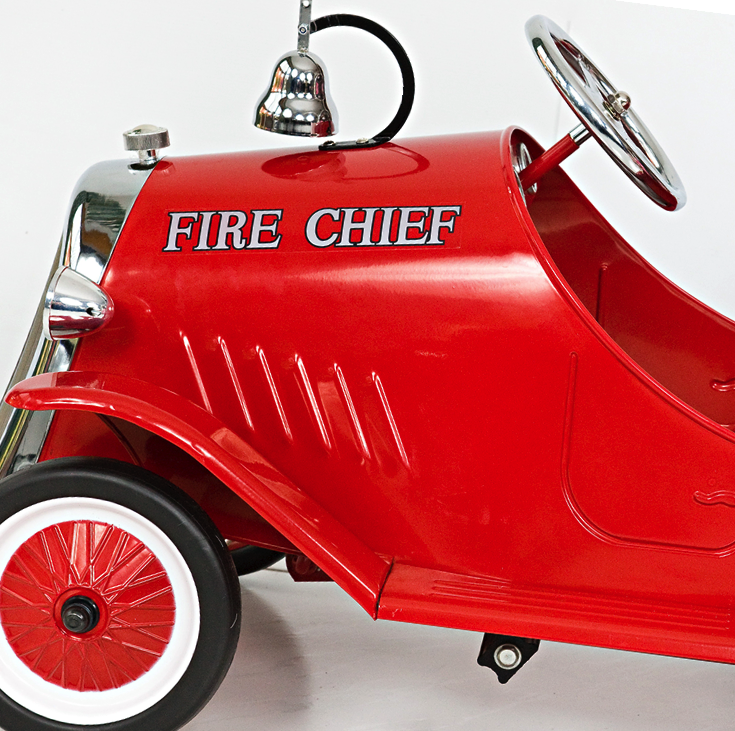 Personalise your Classic Pedal Fire Truck
Your text (please enter text)
NB: Your Name Sticker purchase will be delivered separately
If you have chosen to personalise a product with your Child's name and a personalised name sticker is required, you will receive your name sticker within 10 - 14
working days from purchase date in a separate delivery. If embroidery is required you will receive your personalised product within the normal delivery guidelines set out in our Delivery & Shipping Page
Why the delivery price difference?
Our Freight Partners have introduced a reduction in delivery rate for deliveries of large and over-sized items to a business/commercial address. Please select appropriate destination for your delivery at checkout.
Description
Ride on steel pedal fire trucks are an all time favourite with toddlers and kids.
Imagine the look on the face of your toddler or child when they see this steel toy pedal fire engine. They will be the toast of the neighbourhood as they pedal around in their very own pedal fire truck toy, complete with 2 removable wooden ladders, back flip tray and shiny chrome ringing bell.
There isn't a child around who wouldn't feel important as they race around from one pretend fire to another in their very own ride on pedal fire truck. Built out of steel, this will become a family favourite which can be handed down from generation to generation, creating lasting memories for the young and old alike. Ride on Pedal Cars as like this pedal fire engine also encourages coordination, promotes motor skills as well as muscle development.
To make this gift extra special, have this beautiful pedal car personalised with your Child's First Name. For a small additional cost, you can order your personalisation name sticker
Features
- Finished in high quality lead free powder coat paint
- No sharp edges
- Fully functional steering (steering mechanism all steel)
- Shiny Chrome Functional Bell - 2 X Removable Wooden Ladders
- Back Flip Tray
-Adjustable pedals for growing little legs
Dimensions : 95cm long x 47cm high X 48 width
This steel pedal fire truck is suitable for children ages 3 - 6 Hip kids range of steel toy pedal cars will also make a great show piece in any child's bedroom or playroom
Note: Some simple self-Assembly required & personalised name sticker displayed in images above can be purchased separately
Product Care: We recommend that all steel toys be stored indoors, away from water and out of the weather elements. Warranty is void unless stored appropriately
Product benefits
encourages physical activity
30 Day Money Back Guarantee
Meets Australian Safety Standards
Share the journey
In your homes #hipkids
You've earned a Free Gift! Please Choose
HipKids Wooden Tea Set
Toy Food & Beverage Set
HipKids Toy Cash Register